Stink Horn Eggs
Jack Schmidling Productions, Inc.
18016 Church Road ~ Marengo IL 60152
Phone:815 923 0031 ~ Email:arf@mc.net
---
Stink Horn Eggs

While searching for morels in our woods a few weeks ago, my daughter found what appeared to be a soft stone. After a little poking and digging, we came up with a perfectly round ball with a single rootlike stem coming out the bottom. My first thought was a puffball but this was nearly covered with soil and only a small part sticking out. This is not the way puffballs develop.

After browsing our library of fungus books, my wife found a drawing that looked exactly like our "stone" in the stinkhorn section of one of the books. A stink horn is a tall fungus that bursts out of the ground and as the name implies, produces a very unplesant odor as it ripens. The genus of the fungus is Phallus which gives a good idea of what it looks like. The stink attracts flies that move on to spread the spores for future generations.
---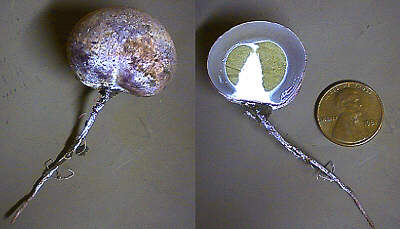 These two pictures were taken with a web cam a few minutes after collecting another sample. When first dug up, it was just a dirty white but started turing blue by the time I got the camera set up.
The cut open view clearly shows the embryo of the stinkhorn. I was always under the impression that these things developed very rapidly but after about 3 weeks, there still is no sign of any stinkhorns

---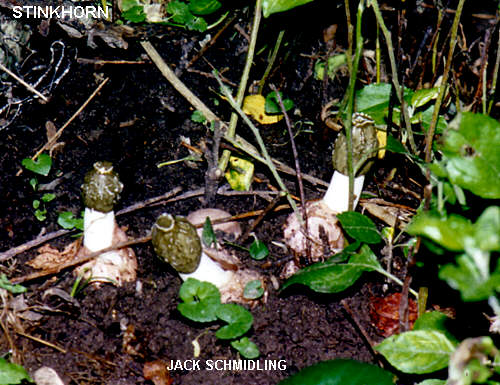 STINKHORN
(Phallus impudicus)
Then after one more week, each of the "eggs" hatched into a stinkhorn.
I am not absolutely certain of the species so I am open to corrections.
---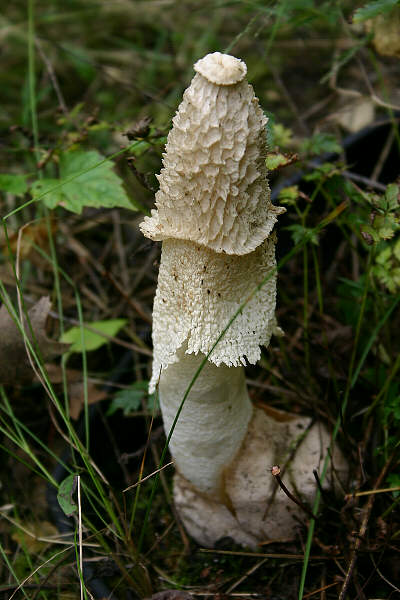 VEILED STINK HORN
Dictyophora duplicata


This bit of erotica is known as the Veiled Stinkhorn.

It typically has a black stinky "gleb" over the cap but it was apparently washed off by rain.




For the most recent Photos of the Week...
RECENT PHOTOS