PHOTO OF THE WEEK
Jack Schmidling Productions, Inc.
Marengo Illinois

MOST RECENT PHOTOS PHOTO INDEX HOME PAGE
New SLIDE SHOW New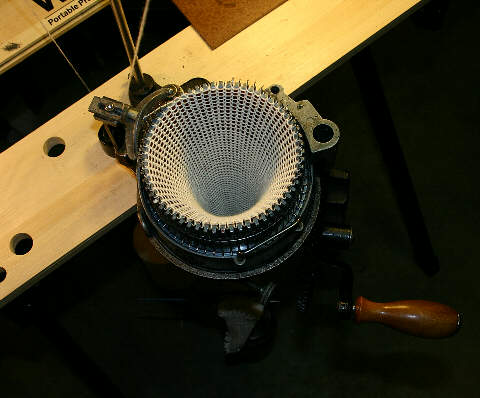 ANTIQUE CIRCULAR SOCK MACHINE
This wonderful machine is my Christmas present from Marilyn. It was to the early 20th century what Ebay is today.

Instead of reselling other people's junk, people bought these machines to make socks to sell to anyone including the companies that sold them the machine.

One simply feeds hay into it while turning the crank and out comes endless miles of socks. Well, it helps to have sheep to convert the hay into wool first but that is just a detail.
For more on that..... SHEEP
---



To express my appreciation for this wonderful gift, I gave Marilyn a pair of socks made on the machine.

Just to make it a real family affair, I insisted that she do the cranking.
MERRY CHRISTMAS