Siberian Squill
Jack Schmidling Productions, Inc.
Marengo Illinois

MOST RECENT PHOTOS PHOTO INDEX HOME PAGE
New SLIDE SHOW New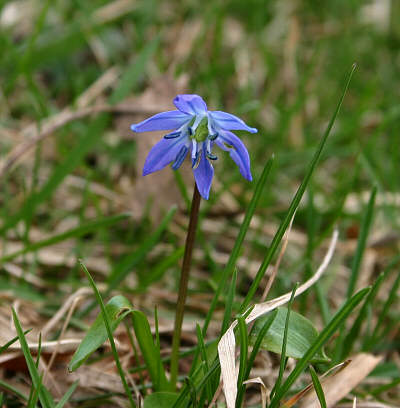 Siberain Squill
Scilla sibirica

This single digit weather has me pining for Spring so it seems like a good time to introduce a flower that didn't rise to the top of the heap until the dead of Winter.

Commonly known as just "Squill", this flower, when once introduced, will re-seed itself and become established just about anywhere. It is actually what one would call a Spring bulb but unlike most bulb plants, the seeds reproduce very well.

Ours set up camp in our front lawn and if it were not for mowing, they would cover the whole lawn. We hold off mowing until most of them have bloomed.

It is a very tiny plant; the flower stalk being only about 3" tall.