RACCOONS
Jack Schmidling Productions, Inc.
18016 Church Road ~ Marengo IL 60152

MOST RECENT PHOTOS PHOTO INDEX HOME PAGE
New SLIDE SHOW New
---
Shortly after moving out here we were visited by a raccoon who quickly learned that we had a soft spot for wild animals. She comes to the back door and begs for food from about February through August, then disappears till the following year.
&nbsp
Rachael
This is our Rachael with her nose against the window.
She eats just about anything we put out but her favorite is peanuts and we buy them in 25 lb boxes for her and all our other pals.
I don't know if it's any sort of record but this has been going on for 9 years and just when we think she didn't make it through the Winter, she comes scratching at the door.
---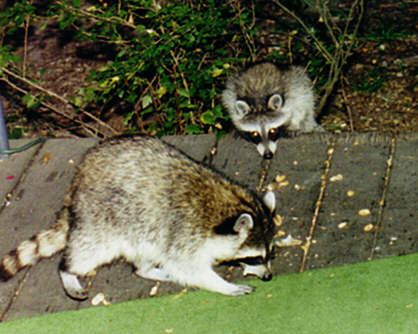 The Kids
These are this year's children gleaning what Mom left behind. She does not allow them up on the deck if she can help it.
She takes food out of my hand but they won't come near.
We think the reason she disappears so suddenly is to ditch the kids to rest up for next year.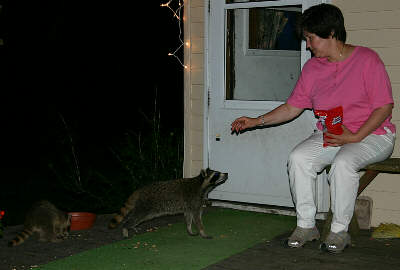 Marilyn feeding junk food.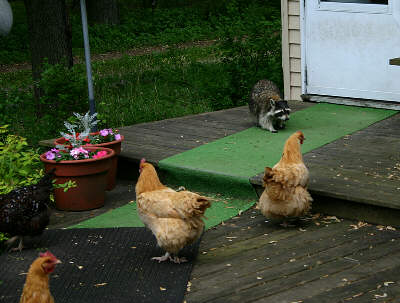 Many is the warning about racoons killing chickens. This obviously has not been our experience.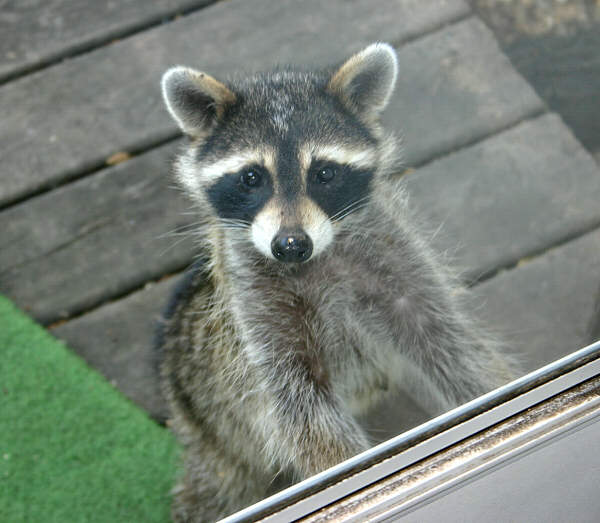 RONDA
What does one do when someone like this knocks at the back door? Give it a treat of course.
We have been doing this for 10 years and who knows how many generations. This happens to be Rachel's daughter who seems to have learned her lessons well.
---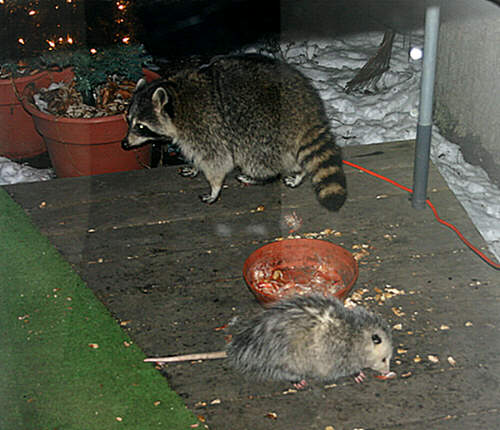 Cultural Diversity


We have published photos of Rachael and Ollie in the past but this is the first time we managed to get them both in the same picture. There were actually two "Ollies" but one walked off set as I was taking the picture.

Rachael has been coming around begging for almost ten years but Ollies come and go and we lose track of who is who so we just call them all, Ollie.


For more Ollie.... OPPOSUM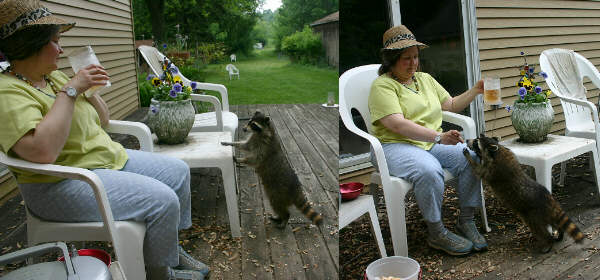 RACHEL, AGAIN

We never seem to run out of photo-ops with Rachel and her gang.

Not big on beer but they love peanuts.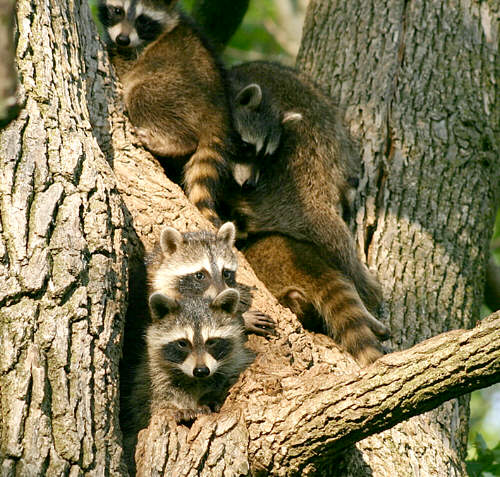 HEADING OUT
To the best of our knowledge, this is at least family #10 for Rachael. This is a very large Ash tree at the end of our driveway with a hole about 15 feet above the ground. The two coonlets at the bottom are just coming out of the hole.

Rachael, whose gray back can be seen upper right was clinging to the other branch and calling the kids. One by one, they stuck their heads out and climbed up the tree. When I got too close, they scrambled and didn't quite know where to go.



Eventually, she got them organized and paraded all six of them across the yard and up to our back porch for their evening meal.

This picture was taken about a month ago and she has managed to hold the family together so far... no road kills yet.