COMMON OPOSSUM
Jack Schmidling Productions, Inc.
18016 Church Road ~ Marengo IL 60152
Phone:815 923 0031 ~ Email:jack@schmidling.com
---
COMMON OPOSSUM
This week we present another one of our regular visitors, Olie the Opossum or more commonly shortened to Possum.
Olie
Opossums are marsupial mammals and as such, are the only representatives of this order of mammals living in this part of the United States. Marsupials nurse their tiny babies in pouches for about two months before they actually make it to the outside world. At birth they way about a tenth of a gram and a litter of 16 could easily fit in a table spoon.
Olie is seen here rumaging in the composter after a few weeks of very cold weather kept him in his hole.



---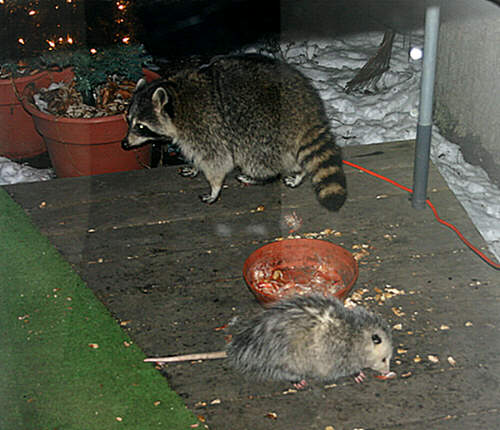 Cultural Diversity


We have published photos of Rachael and Ollie in the past but this is the first time we managed to get them both in the same picture. There were actually two "Ollies" but one walked off set as I was taking the picture.

Rachael has been coming around begging for almost ten years but Ollies come and go and we lose track of who is who so we just call them all, Ollie.

For more Racoons.... RACOONS



---
Rachael Update..................
A few months ago we did a story on Rachael our racoon who has been returning every Spring. I promised to report back on her arrival this year and she is eating a peanut butter sandwich at the back door as I type. This makes year 10.
For the full story see RACOONS
---
For the most recent Photos of the Week.. RECENT PHOTOS