POISON IVY
Jack Schmidling Productions, Inc.
Marengo Illinois

MOST RECENT PHOTOS PHOTO INDEX HOME PAGE
New SLIDE SHOW New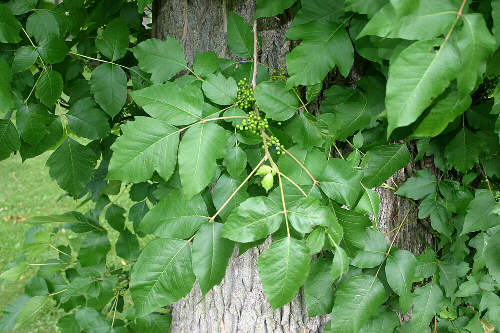 POISON IVY

Rhus radicans
Everyone knows (or should know) what poison Ivy looks like.

"Leaves of three", fruit in clusters of little green balls that turn white in Fall. Mostly sprawling on ground and sometimes climbing up trees.

Nasty stuff to be avoided like the plague.

It is a member of the Cashew Family (Anacardiacae).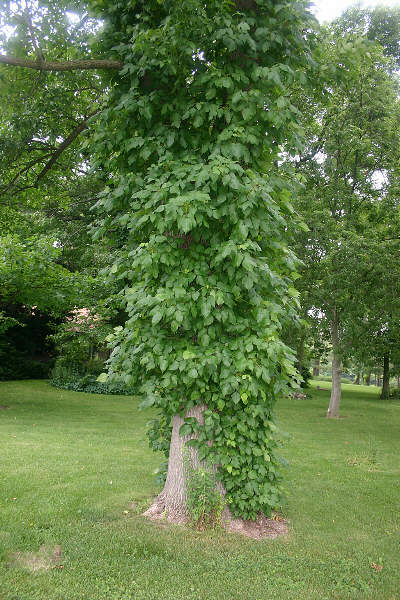 As a defender of the downtrodden, imagine my delight to see this beautiful vine climbing up a neighbor's oak in their lovely park.

Another member of the group virtually demanded that it be destroyed at once and suggested several ways to do it.

To me it would be like killing a dangerous animal in a cage at a zoo. It can't hurt anyone who leaves it alone and is the most beautiful specimen I have ever see and I have seen a lot.

So much in fact, that I can no longer wear short sleeve shirts in the sunshine. As a result of a serious exposure 20 years ago, 5 minutes exposure to the sun and my forearms start to itch almost as badly as during the original experience. They will continue to itch for hours after so I just never go out into the sunshine without a long sleeve shirt on.

Contrast this with a friend who rubs it on his arms and face without the slightest after effects.

And then there are our sheep and goat who love to eat the stuff.