NGC604 EMISSION NEBULA
Jack Schmidling Productions, Inc.
18016 Church Road ~ Marengo IL 60152
Phone:815 923 0031 ~ Email:arf@mc.net
---
NGC 604
GIANT EMISSION NEBULA IN THE PINWHEEL GALAXY
In the outer reaches of one of the spiral arms of M33 is a giant emission nebula, similar to the Great Nebula in Orion, although vastly larger. It is just a smudge in most images of the galaxy but if one takes the trouble with a larger instrument, it becomes an interesting deep sky object in its own right.
Recently NASA released a very dramatic Hubble image of NGC604 which sent some of us hopping to our backyard observatories to see what we could do. The following is what I came up with using my 10" F6 Newt, MX716 and a hydrogen alpha filter for the luminence image.
The context image is a smaller version of last week's color image of the galaxy which can be reviewed by going to Recent Photos in the masthead above.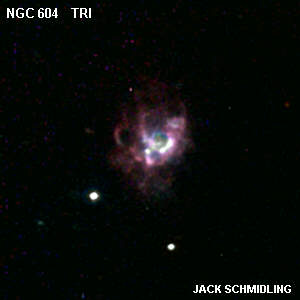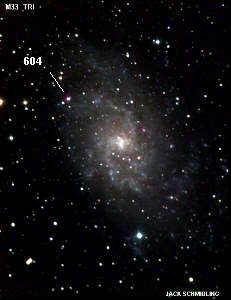 ---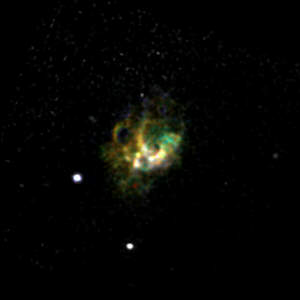 Hubble Color
The colors in the recently published Hubble image of NGC604 bear (as usual) no resemblence to what most of us mortals obtain using the usual set of color filters.
I leave the reasons for this "anomaly" to the reader but for the exercise, I have extracted the color from the Hubble image and substituted it for my color to produce this image based on my luminence (monochrome) image.

And finally, if you do not see the Lion singing about the need
for courage in this version, you are too serious about it all.

All I did was rotate it 90 degrees.



---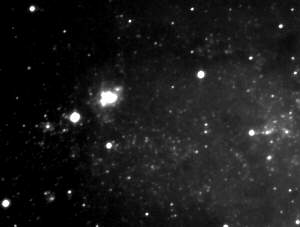 And finally (really), here is an image from 1999 taken with the 16" telescope but before the advent of hydrogen alpha filters.
Note the near total lack of structure in the nebula in this and the near total lack of stars and other galaxy structure in filtered image.
---
For more information and images on: M33
---
For the most recent Astrophotos of the Week...
RECENT PHOTOS
All film photos taken with the...JSP ASTROCAMERA