M33 SPIRAL GALAXY
Jack Schmidling Productions, Inc.
18016 Church Road ~ Marengo IL 60152
Phone:815 923 0031 ~ Email:arf@mc.net
---
M33
SPIRAL GALAXY IN TRIANGULUM
---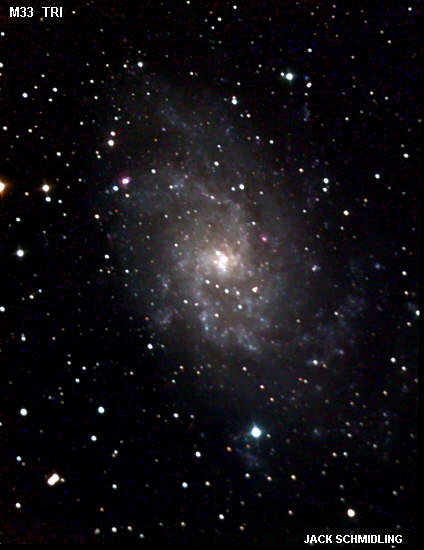 M33
The Pinwheel is a member of the Local Group of galaxies and is the second closest spiral galalxy after M31 in Andromeda.
It lies at a distance of about 2.4 million light years and is about 50,000 light years across or about half the size of the Milky Way.
The entire spiral rotates in a period of about 200 million years.
This image was a stack of 3 x 20 min exposures taken with the 4.25" telescope.

---
M33
This higher resolution image was taken through the 10" telescope.
It was a stack of 6 x 10 min exposures taken with the MX716 camera for the luminance image and binned 10 minute for the R and G frames. The B was synthesized from the R and G.

---
NGC 604
Giant Emmission Nebula
In the outer reaches of one of the spiral arms of M33 is a giant emission nebula, similiar to the Great Nebula in Orion, although vastly larger. It is just a smudge in most images of the galaxy but if one takes the trouble with a larger instrument, it becomes an interesting deep sky object in its own right.
The context image is a smaller version of last week's color image of the galaxy which can be reviewed by going to Recent Photos in the masthead above.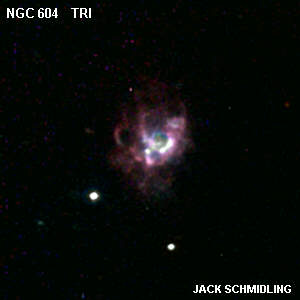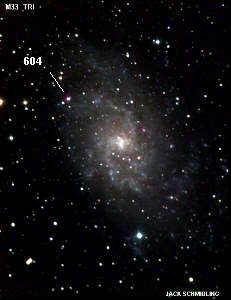 For more information and images on: NGC 604
---
NGC 595
Giant Emmission Nebula
We end our tour of the Pinwheel Galaxy in Triangulum with a high resolution color image of NGC 595 taken through the 10" telescope.
This is another nebula similar to but smaller than NGC604, on the other side of the galaxy.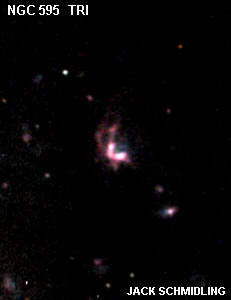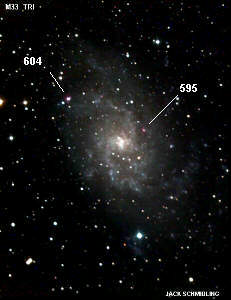 ---
For the most recent Astrophotos of the Week...
RECENT PHOTOS
All film photos taken with the...JSP ASTROCAMERA