MINK
Jack Schmidling Productions, Inc.
Marengo Illinois

MOST RECENT PHOTOS PHOTO INDEX HOME PAGE
New SLIDE SHOW New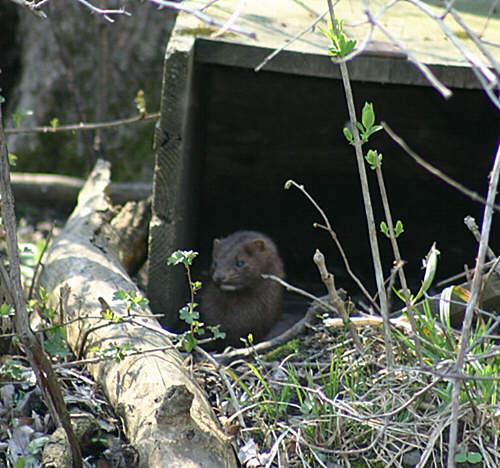 MINK
Mustela vison
We spotted this little fellow on our morning walk, crawling out of the pond and into an old Wood Duck nesting box that had fallen out of the tree. Our first reaction was a Long Tailed Weasel (Ermine) because we had seen a snow white one in Winter.

His size was difficult to judge because he was on the other side of the pond. Upon further investigation, the Weasels never turn completely brown but maintain a light colored underside from the neck to the tail.

The Mink is a uniform brown all over except for a small patch of white on the chin which is clearly visible in the pictures.