MAYAPPLE
Jack Schmidling Productions, Inc.
Marengo Illinois

MOST RECENT PHOTOS PHOTO INDEX HOME PAGE
New SLIDE SHOW New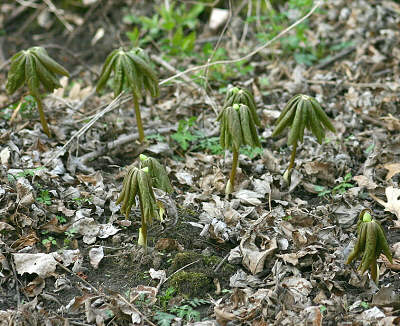 MAY APPLE

Podophyllum peltatum


August may seem like a strange time to bring up the Mayapple but it blooms in May and I missed the flowers and fruit so I will have to add them next year.

This is one of our favorite Spring flowers if, for no other reason than for the way it emerges like a small forest of umbrellas.

You will notice in this picture that some of the plants have just a simple umbrella and some have it split into two halves with stems joined below.

The split umbrellas are the fertile plants and have a flower bud at the junction of the two leaves.

The non-flowering plants are presumably there to supply additional energy to the root stock.

The plant gets it's name from the apple like fruit that is considered edible by some but not exactly haute cuisine in my opinion.

All other parts of the plant are considered poisonous.

Hopefully, next year we will get pictures worth posting of the flower and fruit.

MAY APPLE FLOWER


In August I posted "The May Apple Story" and promised to add the flower and fruit next year.

I guess I was having a senior moment as I found this photo of the flower taken this Spring.

Next year.... the fruit.

---

MAY APPLE
It's next year but too early for the fruit. However, I can not think of a wild flower that has as many interesting growth phases as the May Apple.

This image shows a fertile plant just emerging from the ground with the flower bud already fully developed.