HORNETS, YELLOW JACKETS
Jack Schmidling Productions, Inc.
Marengo Illinois

MOST RECENT PHOTOS PHOTO INDEX HOME PAGE
New SLIDE SHOW New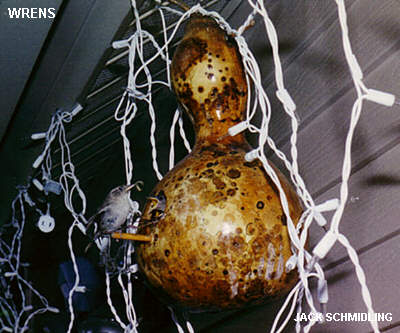 HOME IS WHERE THE HORNETS ARE

This touching picture of Mother Wren feeding her young was posted in 2004.

The "house" was fashioned by a neighbor from a gourd grown in her garden.

It has been unoccupied since than until this year.
---

The latest and final occupants were a colony of Yellow Jackets (Vespula sp.) which showed up this Spring.

Being lovers of Nature, we just went along with the program.

They apparently ran out of room inside and started an addition on the bottom outside. This wasp chews wood and deposits it as paper for construction.

This nest is only a few feet from the back door but in several months of going in and out, they were never hostile or bothered anyone.

Then it happened.... sort of like the bridge in Minnesota...no one paid attention to the load or condition of the support and it came crashing down one day. There were hornets, eggs, larvae and honeycomb broodcells in a big pile and they were not very happy about this. They were now more outside than in and it was hard to get into the house without several following us in.

After I finally did get stung, it was time to put Mother Nature in her place. We called a pest control company and they came and dressed up like astronauts and removed or killed the whole mess.

Given the choice, we prefer wrens.