Wrens
Jack Schmidling Productions, Inc.
18016 Church Road ~ Marengo IL 60152











HOUSE WRENS




Several years ago, a neighbor (Cathy Persyk) gave us an art nouveau birdhouse that she made out of a gourd from her garden. We hung it in a tree visible from a window and it served no purpose other than something pretty to look at.
This year we hung it on a nail near the back door and within minutes, there was a wren investigating it and within a few days there were sticks poking out of the hole.



---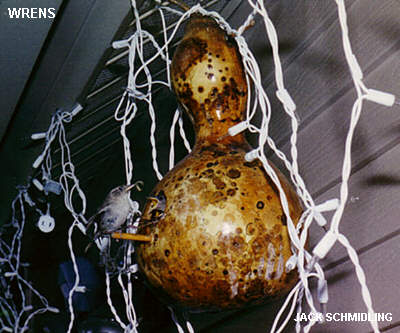 Mother Wren
After many false starts, actually a month or so later, peeping was heard from the gourd.
It is hard to believe how much work the parents do to provide food for the brood. From morning till near dark, as regular as a clock, the parents came with food and went looking for more. In the time we watched, there was never more two minutes between feedings.

This picture was around day 12 and they left the nest right around the two week mark as is normal for this bird.

You are not supposed to notice the Christmas lights that are still up.









---
For the most recent Photos of the Week.. RECENT PHOTOS