GROUND HOG, WOOD CHUCK
Jack Schmidling Productions, Inc.
18016 Church Road ~ Marengo IL 60152











WOOD CHUCK




There is nothing unusual about a squirrel in a bird feeder. In fact they are such pests that a whole industry has developed to come up with methods of keeping these clever animals out of feeders. However, when a wood chuck turns up in the feeder, it's hard not to take notice.



---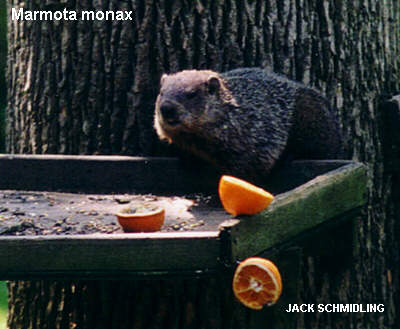 Ground Hog?
This guys biggest problem seems to be his name.
In Illinois and Wisconsin, he is known as the Wood Chuck but who ever heard of Wood Chuck Day?

Everyone on Earth knows that if Puxatawny Phil sees his shadow on Ground Hog Day (Feb 2), there will be 6 more weeks of Winter.

If that's not enough confusion, he is also known as the whistle pig, eastern marmot, southern marmot, monk, woodshock and numerous other common names.






The true answer to the puzzle lies somewhere in the old saw.....

How much wood could a wood chuck, chuck if a wood chuck could chuck wood.
Clearly this is of no interest to a Ground Hog.
---
For the most recent Photos of the Week.. RECENT PHOTOS