TULIPS IN DEER COUNTRY
Jack Schmidling Productions, Inc.
18016 Church Road ~ Marengo IL 60152
Phone:815 923 0031 ~ Email:jack@schmidling.com
New SLIDE SHOW New
---
TULIPS IN DEER COUNTRY
One of our great plans for moving to the country was to develop our property into part grand English type park and part natural area to promote native flora and fauna.
Well it seems that the native fauna has their own ideas for our property and we have all but abandoned any hope of realizing our goals.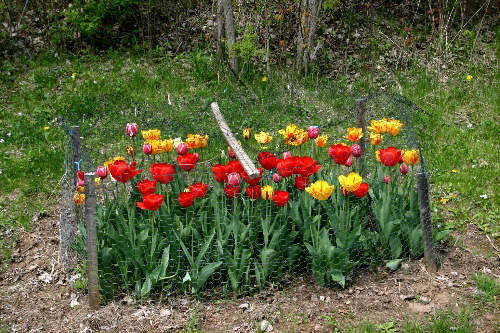 This is one example of what we have to do to protect everything we plant from the ravages of the local deer population.
Everything we plant must be in a cage. We have used 100's of feet of chicken wire to make cages for every planting.
We were delighted to learn that many species of hardy cactus will survive our winters so we started planting them, assuming the dear would not bother them.
Wrong again!

We have found a few things that the deer will not eat but the only one of any real value is iris. They occasionally nibble off a leaf but drop it and move on.
I would be most interested in suggestions from readers of other flowers or interesting plants that deer avoid.
---
For the most recent Photos of the Week.. RECENT PHOTOS