ELEGANT TROGON
Jack Schmidling Productions, Inc.
18016 Church Road ~ Marengo IL 60152
Phone:815 923 0031 ~ Email:jack@schmidling.com
---
ELEGANT TROGON
Finally we come to the last of Marilyn's photos from her trip to Arizona.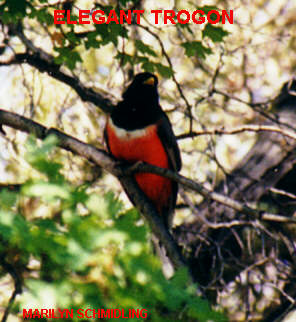 Trogon elegans
This striking bird is one of the reasons birders head for Arizona. It is found only in to very localized places in Arizona and New Mexico but have a wider range in Mexico.
About the size of a crow, the trogon eats insects and fruit and are responsible for the dispersal of many fruit seeds. They build their nests in tree cavities.
Although not obvious in this photo, Trogons have the peculiar habit of perching with the tail pointed straight down.


---
For the most recent Photos of the Week.. RECENT PHOTOS