NODDING THISTLE
Jack Schmidling Productions, Inc.
18016 Church Road ~ Marengo IL 60152

---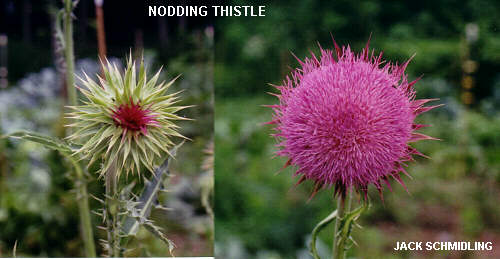 Although just an "alien weed", the Nodding Thistle is really a very pretty flower when seen up close. It is a common garden weed that is usually pulled before the flower ever has a chance to develop.
The flowers can be seen in large numbers along highways if one takes the time to look at them. We usually let most of them bloom not only for the beauty but because the ripe seeds are a favorite food of the American Goldfinch which can be seen hanging from the dried flowers while pulling out the seeds in Fall.

The flower develops in two stages. The picture on the left is what it looks like when first opening. It takes about a week to develop into the full bloom seen on the right.
It is called nodding to distinguish it from the very similar Bull Thistle which holds the flower erect as opposed to drooping down or horizontal as in the Nodding Thistle.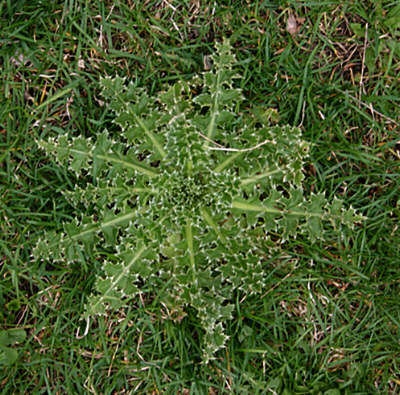 This rosette is how it starts out in Spring. In Fall, it will develop the 4 foot high flower stalk if it escapes the lawn mower this Summer.
This plant is very common all over the US but is a non-native, European introduction.
---
For the most recent Photos of the Week.. RECENT PHOTOS