SWEET FLAG
Jack Schmidling Productions, Inc.
18016 Church Road ~ Marengo IL 60152
Phone:815 923 0031 ~ Email:jack@schmidling.com
MOST RECENT PHOTOS PHOTO INDEX HOME PAGE
New SLIDE SHOW New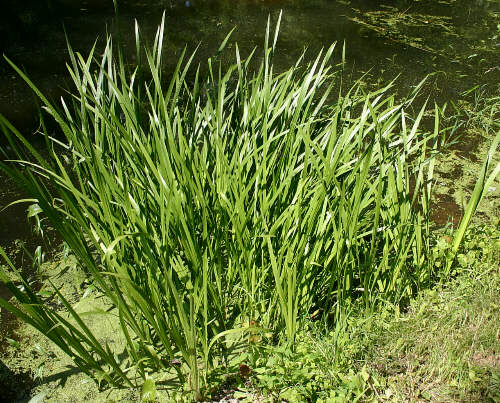 Sweet Flag
Acorus calamus



Superficially, Sweet Flag resembles cat tails but it is a member of the Arum family. It derives it name from the sweet fragrance and flavor of the roots which were used to make candy.

This grouping developed from a small clump planted at the edge of the pond about 8 years ago.

Although there are thousands of species in the Arum family it is not well represented in temperate regions.

One of the characteristics of the family is the very tiny flowers arranged in a diamond pattern on a stalk known as a

spadix.

The best known North American Arum is the Jack-in the Pulpit. If you look into the "pulpit" you will see a spadix exactly like the Sweet Flag which lacks the pulpit part known as the

spath

.