SUNFLOWER MYSTERY
Jack Schmidling Productions, Inc.
18016 Church Road ~ Marengo IL 60152
Phone:815 923 0031 ~ Email:jack@schmidling.com
---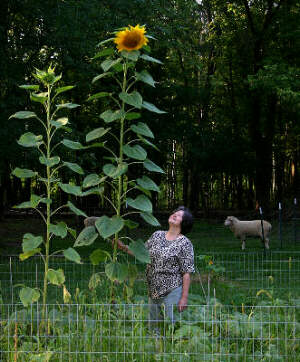 SUNFLOWER MYSTERY
Marilyn has been trying to grow sunflowers for years and is clearly pleased with this one. The sheep seems a bit bored with the whole thing but they have their own program. Year after year, she has planted seeds of all sorts and nothing but runts are ever produced.
We haven't a clue what went right with this one but she planted several groups of seeds in this pumpkin patch and these two are the only ones more than a foot high.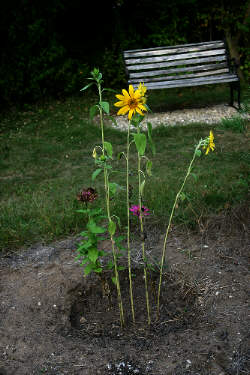 This planting in the park is more typical of what we come up with. An idea of the puny size can be gaged from the fact that they are only about twice as tall as the Zinias in the same planting. The seed for these came from the same package as the above.

---
For the most recent Photos of the Week.. RECENT PHOTOS