Long-Bodied Cellar Spider
Jack Schmidling Productions, Inc.
18016 Church Road ~ Marengo IL 60152
Phone:815 923 0031 ~ Email:jack@schmidling.com
MOST RECENT PHOTOS PHOTO INDEX HOME PAGE
New SLIDE SHOW New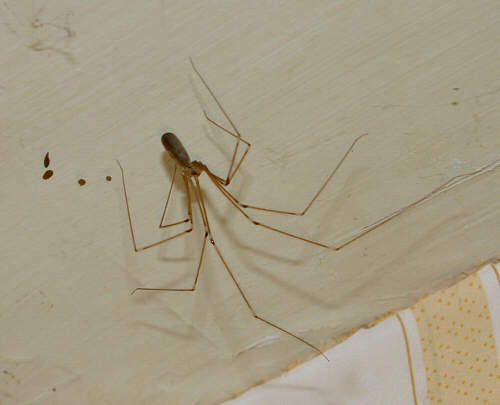 Long-Bodied Cellar Spider
Pholcus phalanginoides
This fellow is a member of the Daddy-Long-Legs family (Pholcidae) and as the name implies, is very commonly found in cellars.

When disturbed, it exhibits the most bazzar behavior. Just blow on it and it shakes so violently that it becomes just a blur. After a minute or so, it stops and continues whatever it was doing which is usually nothing obvious.

We have dozens of them hanging from the very high ceiling going down the cellar steps and are always proud to show off our "dancing spiders".


The rest of the story can only be appreciated by a true animal lover. This particular one has been hanging near the ceiling of my show stall for months. Don't recall when I first noticed him but it has been at least all Winter. When I take a shower, we have a little chat and I set him to dancing. I have no idea what he eats or drinks but he seems quite content.