SHARK AND SALMON MOUSSE
Jack Schmidling Productions, Inc.
Marengo Illinois

MOST RECENT PHOTOS PHOTO INDEX HOME PAGE
New SLIDE SHOW New
---
SHARK AND SALMON MOUSSE
IN CROUTE
One of our other hobbies here is cooking and Sunday is set aside for a very special meal or at least a very special dish.

These adventures are usually joint efforts, Marilyn and I each doing a part of the dish.

In this case, I made the filling and Marilyn did the crust and sauce.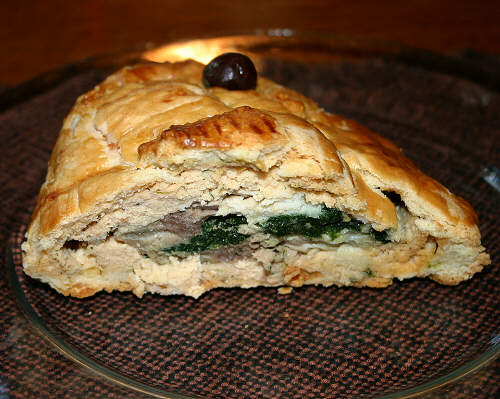 The filling consists of strips of Black Tip Shark layered with spinach which is wrapped up in a salmon mouse. This is constructed on top of the Pate Brisee which is then wrapped around the filling and sculpted into a fish.

An olive for the eye and red pepper for the mouth complete the illuson of a fish.

Each serving is topped with a tomato butter sauce.

This dish was inspired by Pepin's otherwise boring and inane "Cooking with Claudine".

One can not read this book without constantly thinking that Claudine needs to go out and get a job instead of making an idiot out of herself spoiling her father's books.