TOURNADOES ROSSINI
Jack Schmidling Productions, Inc.
18016 Church Road ~ Marengo IL 60152
Phone:815 923 0031 ~ Email:jack@schmidling.com
---
Some may think it a bit of a stretch to consider cooking to be a science but as a serious cook, I think it is rather appropriate. In light of this, as the occasion arises, I will include some of my more successful culinary creations in the Photo of the Week.
My gustatory interests range from peasant to haut cuisine and I find both extremes equally interesting and equally rewarding to the pallet and challenging to the skills of a true gourmand.
One of the greatest challenges arises from the fact that many of the ingredients required for exotic dishes are simply not available everywhere, so coming up with an appropriate substitute that does not substantially change the character of the dish requires nothing less than inspiration.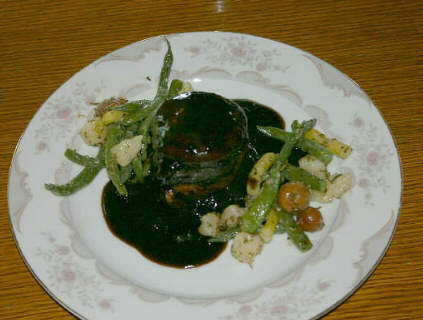 TOURNEDOS ROSSINI
AU SCHMIDLING HALL
This variation of the classic French dish is a good example of making use of local ingredients.
The traditional dish, is a bread crouton base, with a medallion of fillet mignon, topped with a round of foie gras and crowned with a truffle slice.
The sauce is a rich brown fond lie finished with Madeira wine, truffle juice and pan drippings.

We happened to have a venison loin so we substituted that for the beef.
For the foie gras, we substituted a slice of a North Carolina dish known as liver mush.
The mushroom on top is a portobella which was also used in the sauce instead of truffles.
For Madeira, we substituted a blend of Port and dry sherry.
The accent veggies are green and yellow beans and tiny potatoes right out of the garden.

For the most recent Photos of the Week.. RECENT PHOTOS