ROAD RUNNER
Jack Schmidling Productions, Inc.
18016 Church Road ~ Marengo IL 60152
Phone:815 923 0031 ~ Email:jack@schmidling.com
---
ROAD RUNNER

I am not the only photographer in the family. On a recent trip to Arizona, my wife captured a few very nice photos that I have been wanting to post. A foot of snow on the ground seems a good time to reminisce about warm places.
---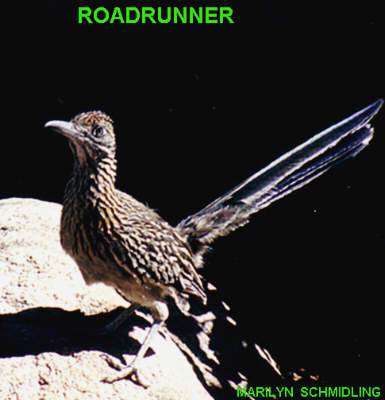 Beep Beep
Anyone who was ever a child recognizes the ROADRUNNER Geococcys californianus from his cartoon antics with Wyley Coyote.
The Road Runner is actually a member of the Cuckoo family Cuculidae and does not have a clue about going "beep beep". It's call is a series coos, not unlike a cuckoo, in addition to a wooden clatter produce by the bill.
He lives in dry open habitat in the SW U.S. and Mexico and feeds on small snakes, lizzards and insects.
---
For the most recent Photos of the Week.. RECENT PHOTOS