BLACK TAILED RATTLESNAKE
Jack Schmidling Productions, Inc.
18016 Church Road ~ Marengo IL 60152
Phone:815 923 0031 ~ Email:jack@schmidling.com
---
RATTLE SNAKE

This week we have another one of Marilyn's photos from her trip to Arizona.
---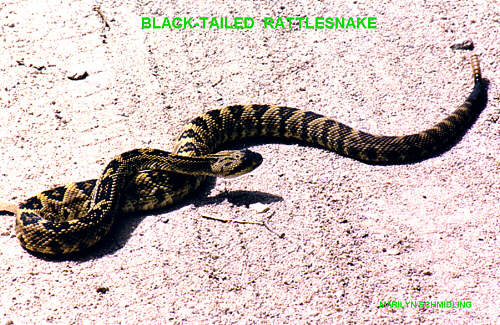 Black Tailed Rattle Snake
Crotalus m. molossus
My wife spotted this snake on a back country road. Her friend nearly drove over it and would have if Marilyn had not seen it.
This snake is not particularly aggressive but it's venom is highly toxic so it is considered dangerous to man. Average length is about 3 feet and the maximum is 5 feet.
---
For the most recent Photos of the Week.. RECENT PHOTOS