BALTIMORE ORIOLE
Jack Schmidling Productions, Inc.
18016 Church Road ~ Marengo IL 60152

BALTIMORE ORIOLE

Some folks may have wondered about the oranges in the bird feeder in last week's photo of the Wood Chuck.
One of the prettiest birds of our area happens to be very fond of oranges so, as soon as we see one in Spring, we start putting out the oranges.
---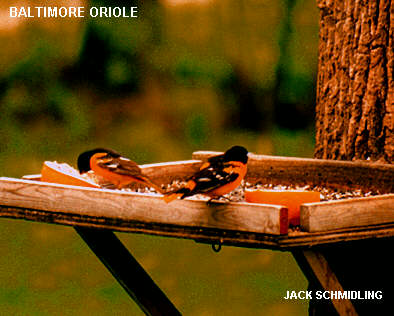 BALTIMORE ORIOLE
Icterus galbula
This bird is also known as the Northern Oriole.
Here we see one male vigorously attacking an orange while another male ponders his next slurp.
One can't help but wonder if it is just a coincidence that the bird is exactly the same color as it's favorite fruit.
---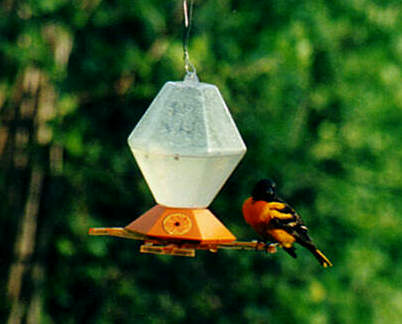 Orioles also like the sugar water that we put out in hummingbird feeders.
However, they usually destroy or upset them and spill more than they drink so some enterpising company designed a nectar feeder just for Orioles, including coloring it orange and painting orange slices at the feeding holes.
They took to it immediately and the hummers don't seem to care any less so it is a great solution to the problem.
---
For the most recent Photos of the Week.. RECENT PHOTOS