OAK LEAF SAUCER GALL
Jack Schmidling Productions, Inc.
18016 Church Road ~ Marengo IL 60152
Phone:815 923 0031 ~ Email:jack@schmidling.com
MOST RECENT PHOTOS PHOTO INDEX HOME PAGE
New SLIDE SHOW New
---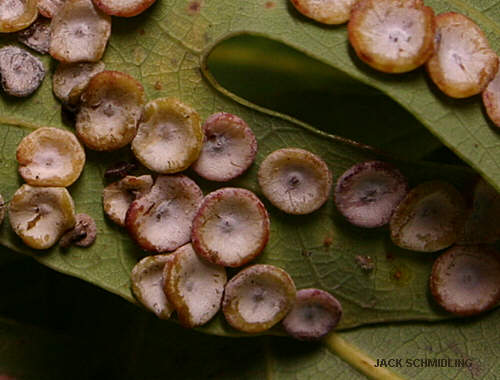 Oak Leaf Saucer Gall
This saucer shaped gall is produced on the leaves of Oak trees by the gall wasp Andricus gigas.

These are not to be confused with a nest of wasp eggs but are actually leaf tissue induced to grow in this manner by enzymes supplied by the wasp when the egg is deposited. I have been unsuccessful at finding an egg by dissection and have to take it all on faith.

It would also be nice to get a photo of the wasp itself but I can't even find one on the internet much less a live one.

Maybe next year.