NGC5907, SPIRAL GALAXY
Jack Schmidling Productions, Inc.
18016 Church Road ~ Marengo IL 60152
Phone:815 923 0031 ~ Email:arf@mc.net
NGC5907, Spiral Galaxy in Draco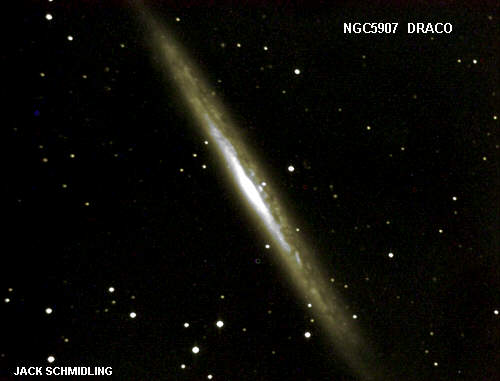 NGC 5907 is another example of a spiral galaxy seen edge-on. The dark dust lanes through the middle are very similar to the dark patches that obscure the Milky Way.
NGC 5907 is about 50 million light years distant and about 85,000 light years across, roughly half the size of the Milky Way.
This image was a 30 minute exposure with the MX7C camera and the 16" telescope.
---
For the most recent Astrophotos of the Week... RECENT PHOTOS

All film photos taken with the...JSP ASTROCAMERA