NGC 4889, Eliptical Galaxy
Jack Schmidling Productions, Inc.
18016 Church Road ~ Marengo IL 60152
Email: jack@schmidling.com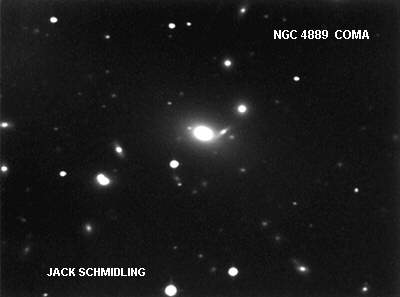 NGC 4889
ELIPTICAL GALAXIY IN COMA BERENICES
Like most eliptical galaxies, this one does not inspire much awe. However, in spite of it's ho-hum appearance, it is about half again as large as our own Milky Way.
It lies at a distance of about 250 million light years and is roughly 220,000 light years across. It a member of the Coma Cluster of galaxies, dozens of which can also be seen in this image.
This image was a 40 min exposure with the MX516 camera through the 16" scope.
---


For the most recent Astrophotos of the Week... RECENT PHOTOS

All film photos taken with the...JSP ASTROCAMERA