NGC2392 Eskimo Nebula
Jack Schmidling Productions, Inc.
18016 Church Road ~ Marengo IL 60152
Phone:815 923 0031 ~ Fax:815 923 0032 ~ Email:arf@mc.net
NGC2392, The Eskimo Nebula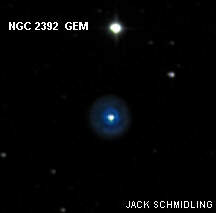 This planetary nebula is named for its not-so-striking resemblance to an Eskimo in a parka. This can be seen in some film photos but is not very obvious in CCD images.
For more information and images on Planetary Nebulae
This image was a 60 second exposure with the MX5C through the 16" telescope.

---
All film photos taken with the...JSP ASTROCAMERA

For the most recent Astrophotos of the Week... RECENT PHOTOS