NGC 1300
Jack Schmidling Productions, Inc.
18016 Church Road ~ Marengo IL 60152
Phone:815 923 0031 ~ Email:arf@mc.net
NGC 1300
BARRED SPIRAL GALAXIY IN ERIDANUS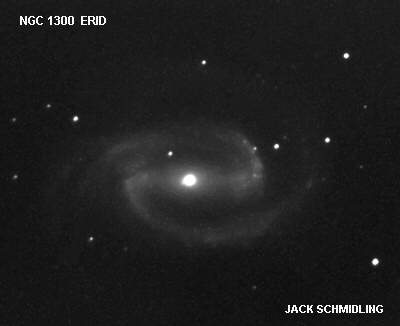 NGC 1300

NGC 1300 belongs to a class of galaxies known as barred spirals and is a conspicuous example of the class. The designation indicates that the spiral arms are connected to each other by a "bar" passing through the center of the galaxy.
It lies at a distance of about 69 million light years and is roughly 100,000 light years across.
This image was a stack of 12 X 10 min exposure with the MX716 camera through the 16" scope.
---
Not being very impressed with the results of many nights of imaging, and comparing it with an image taken in Florida a few years ago, I can only conclude that the poor results are the best I can do from this latitude. As a point of interest, I am including that image taken earlier.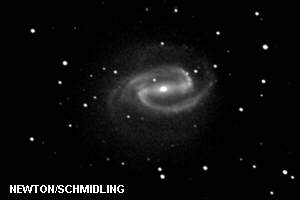 This image was taken in Feb of 2000 on a trip to
Jack Newton's Florida Imaging Site.
We used his 16" Meade and a Meade camera.
The exposure was 15 minutes.

---
For the most recent Astrophotos of the Week... RECENT PHOTOS

All film photos taken with the...JSP ASTROCAMERA