CHIPMONK
Jack Schmidling Productions, Inc.
18016 Church Road ~ Marengo IL 60152
Phone:815 923 0031 ~ Email:jack@schmidling.com
CHIPMONK

One of our favorite traditions at Schmidling Hall is "beertime". Everyday, we stop whatever we are doing at 2 PM, take a walk around the park and have a big glass of SchmidlingBrau and munchies. Weather permitting, we sit on the deck or in the garden and share the munchies with whoever shows up.
---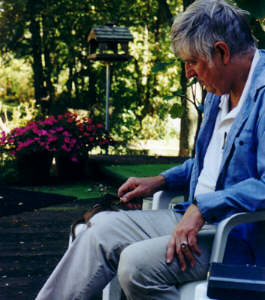 Chipmonk
(Eutamias minimus)
Chipmonks are common visitors but until this year, they just scampered out to pick up peanuts we threw to them. This year one friendly little guy got very bold and would take them from my hand.
After a lot patient coaxing and trickery, he got so tame that he would climb up my pants leg and take them out of my hand.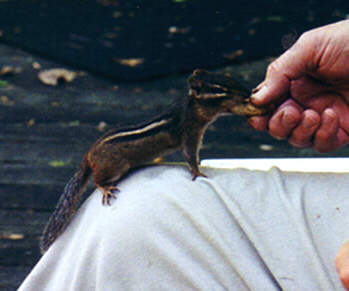 MONK
Sometimes just for fun, I would play tug-a-war with him and he really got mad when I wouldn't let go.
He would sometimes put one in his pouch and take another than run back down and under the deck to stow it in his larder. After a minute or so, he would come back for another one and this would go on till we ran out of beer.
It will be interesting to see if he comes back next year.

---
For the most recent Photos of the Week.. RECENT PHOTOS