MUTTON BUSTING
Jack Schmidling Productions, Inc.
Marengo Illinois

MOST RECENT PHOTOS PHOTO INDEX HOME PAGE
New SLIDE SHOW New
---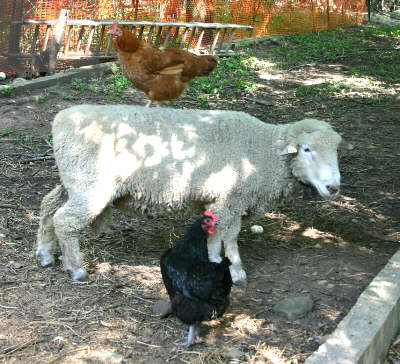 MUTTON BUSTING
My grandson told me that a new game for kids is to climb onto a sheep and hang on for dear life. He called it "mutton busting". I don't know if this counts but we were quite amazed the first time we saw it.

This picture smacks of trick photography but she is actually standing on the sheep. It's always this same chicken and always the same sheep.

We have tried for months, off and on, to get a better picture but something always goes wrong.

We did eventually, resort to trickery.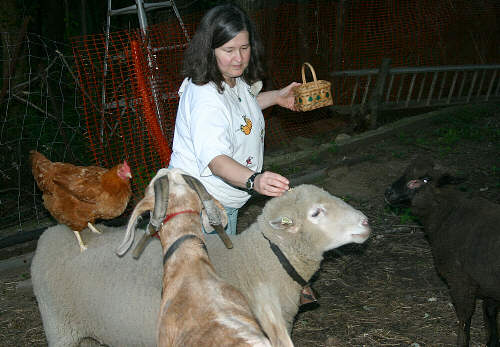 Marilyn started putting peanuts on the sheep's head to get her to move up to the front and look forward but this did nothing but attract a crowd of peanut lovers.

It then occurred to us that it must have been something in her childhood that triggered this behavior.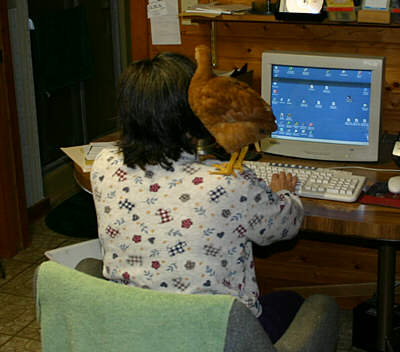 And sure enough, here is "Puny" on Marilyn's shoulder back when she was just a kid.

This chick was abused by mom and nearly starved to death (hence the name) until Marilyn decided it was time to intervene. We kept her in a box in the house and every morning she helped Marilyn with the order processing.

When really small, Marilyn carried her around in a belly pack where ever she went including shopping and the county fair.

If you click on the "recent photos" link above and scrool down, there is a picture of the same mom with this year's chicks. She has already lost one because of here careless mothering but at least she is not chasing them away from the food.... yet.