---
M16
THE EAGLE NEBULA IN SERPENS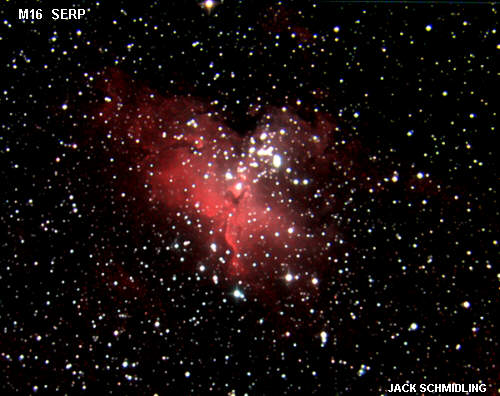 M16
You can see an "eagle" where you want in this object. Some see it in the big pictrure of bright nebulosity with outstretched wings.
I see an eagle in the dark gaseous pillars in the center, getting ready to eat a fish.
I see an alien face at the top of the big picture which is actually the Star Cluster, M16. Messier could not possibly have seen the nebulosity with his telescope when naming it in 1764.
Burnham saw a "Star Queen" sitting on a throne.
---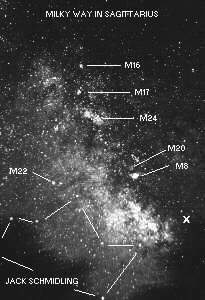 The Eagle Nebula Nebula, M16
It's catalog designation M16 points to its location in this Milky Way photo.
M16 is actually a large, scattered star cluster, surrounded by vast cloud of difuse gas. It lies at a distance of about 8000 light years. It has a diameter of about 70 light years and contains the mass of about 12,500 Suns.
---
The image at the top of this page was taken with the 4.25" astrograph and MX716 camera.
This was taken with the 16" telescope and the MX516 camera. It is a better view of the eagle eating a fish or as the Hubble folks called it, the "pillars of creation".
---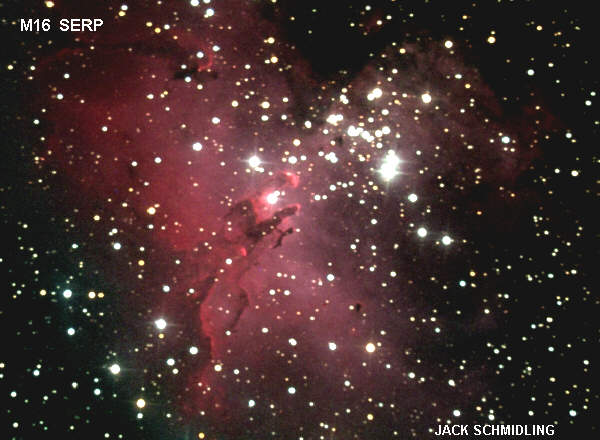 This image was an LRGB taken with the MX716 camera through the 8" telescope.
And for a reality check, a click here will take you to the famous Hubble Space Telescope image... HST M16

---
All photos taken with the...JSP ASTROCAMERA

For the most recent Astrophotos of the Week... RECENT PHOTOS