LEAF FOOTED BUG
Jack Schmidling Productions, Inc.
Marengo Illinois

MOST RECENT PHOTOS PHOTO INDEX HOME PAGE
New SLIDE SHOW New
---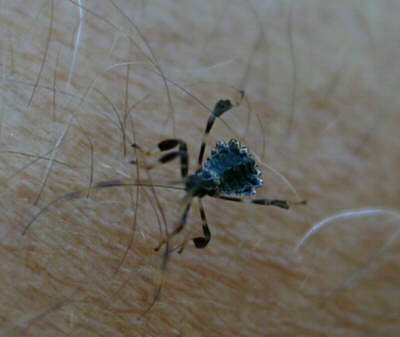 LEAF FOOTED BUG
Coreidae
This odd looking bug puzzled us for awhile until we realized that it was an immature specimen.

It is what is known as an instar or one of several intermediate stages in the metamorphosis of an insect. The adult is a much elongated version that hangs around our living room all winter. There have been one or several in the house every year since we have lived here.

As a point of interest, the word "bug" in this case is not trivial. The insects in the order Hemiptera are known as "true bugs". The most obvious characteristic of a true bug is the shield shaped back produced by the way the forewings fold over the back wings. They also have sucking mouth parts in the form of a beak.



The name Hemiptera means half wing and derives from the fact that the forewings are half leathery and half membranous.

The hind or flying wings are completely membranous.

The Leaf Footed bug is so named because the second last segment (tibia) of the hind leg is very flat and wide like a leaf in the

adult form.

LEAF FOOTED BUG, PART 2

Several weeks ago I posted a picture of "mystery bug" which turns out to be a juvenile version of the Leaf Footed Bug.

I also mentioned that one or more of these usually winter over in our living room and sure enough, this one showed up yesterday on the back door screen waiting to be let in.