LEOPARD FROG
Jack Schmidling Productions, Inc.
18016 Church Road ~ Marengo IL 60152
Phone:815 923 0031 ~ Email:jack@schmidling.com
MOST RECENT PHOTOS PHOTO INDEX HOME PAGE
New SLIDE SHOW New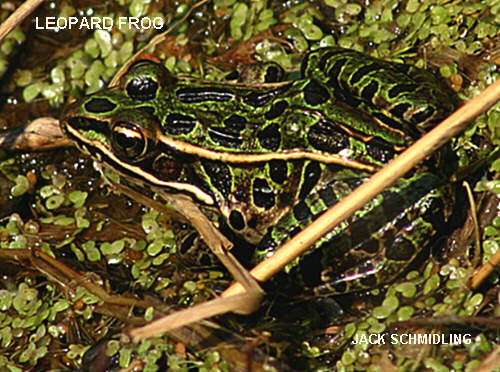 LEOPARD FROG
Rana pipiens
The Northern Leopard Frog is the frist frog to start calling from our pond in Spring.

We can hear Chorus Frogs a few weeks earlier in neighboring sloughs but they rarely come into our pond. I get the idea that they avoid ponds with larger frogs and fish and prefer vernal ponds that can't support anything big enough to eat them.

Unlike the frogs of cartoons and commercials, the Leopard Frog's call is just a series of chuckels, grunts and moans.