FRESH WATER HYDRA
Jack Schmidling Productions, Inc.
18016 Church Road ~ Marengo IL 60152
Phone:815 923 0031 ~ Email:arf@mc.net
FRESH WATER HYDRA

One of the most fascinating animals found in unpolluted ponds is the fresh water hydra. It is a tiny octopus-like relative of the marine jellyfish and corals. After collecting a bucket of water from our pound, I sorted through about a third of it with a microscope before finding one. I then attached my web cam to the scope and the following pictures are the most interesting of the ones I obtained.
---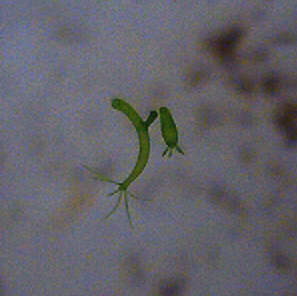 Hydra
This image shows two adults, one fully extended and the other quite compressed. Whenever the sample was jarred slightly, they went into this defensive mode and then slowly expanded again when the "danger" had passed.
The tentacles contain stinging cells known as nematocysts which stunn their prey just like jellyfish. The fully extended one is still less than 2 mm long so they are really very tiny and require serious searching to find.
One of the interesting aspects of this animal is it's method of reproduction known as budding The small knob on the extended hydra is actually a baby growing out of the body of the parent.

---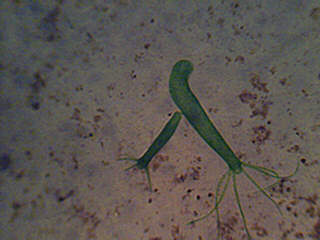 Hydra
This picture was taken 3 days later when the baby was about ready to detach itself and get on with it's own life.
This particular species is known as the Green Hydra which gets it's color from algae living under the first layer of cells. It derives some nourishment from the photosysthesis of the algae but obtains most of it's food by capturing one-celled animals, small crustaceans and insects.

---
For the most recent Photos of the Week.. RECENT PHOTOS