HEN OF THE WOODS
Jack Schmidling Productions, Inc.
Marengo Illinois

MOST RECENT PHOTOS PHOTO INDEX HOME PAGE
New SLIDE SHOW New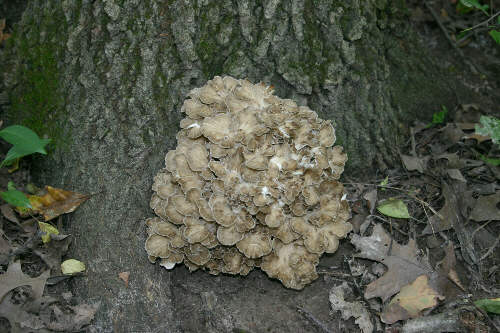 HEN OF THE WOODS
Polyporus frondosus
The "Hen" is one of our favorite edible mushrooms of the fall. It fits our modus operandi regarding eating wild mushrooms. The only thing it is likely to be mistaken for is a pile of dead leaves.

This Fall (2006) has been wetter than usual and has resulted in a bumper crop of Hens. We have found about 10 of them ranging from 1 to 5 lbs. We gave most of them away but ate a few pounds, froze a few and dried a few.

Last night we had them on pizza and this morning with scrambled eggs and for dinner with beef ribs. They are delicious and can be used any way mushrooms are used.