Forsythia Golden Bells
Jack Schmidling Productions, Inc.
18016 Church Road ~ Marengo IL 60152
Phone:815 923 0031 ~ Email:jack@schmidling.com
MOST RECENT PHOTOS PHOTO INDEX HOME PAGE
New SLIDE SHOW New
---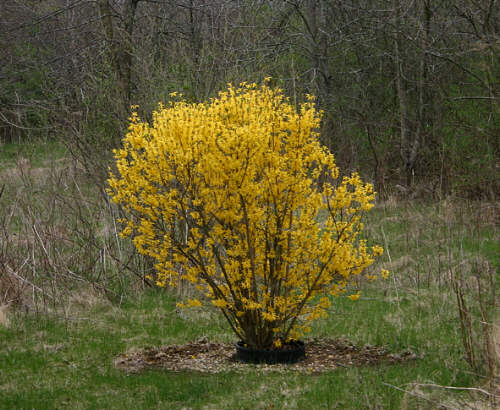 Forsythia (Golden Bells)
Forsythia sp.
The Forsythia is an introduction from China and has been bred into several different species. This one is probably F. intermedia but I am not certain. It is a member of the Olive Family (Oleaceae).

While a rather common garden shrub, we had been nurturing this one for about 8 years before it bloomed at all and then only a few flowers. This year it delighted us with a full show that made the waiting worthwhile.

Unfortunately, a few days later, all the "golden bells" were on the ground it the show was over for the year.