DUCK POTATO
Jack Schmidling Productions, Inc.
Marengo Illinois

MOST RECENT PHOTOS PHOTO INDEX HOME PAGE
New SLIDE SHOW New
---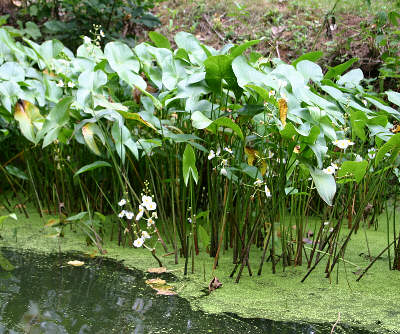 DUCK POTATO
Sagittaria latifolia

This interesting pond plant is a member of the Arrowhead family, Alismataceae and is also known as the Common Arrowhead.

It can actually become quite a pest and I spent several days pulling excess plants out of the pond this year.

The Duck Potato name derives from the fact that tubers grow from the roots that look like small potatoes and are supposedly relished by ducks. They are also thought to be eatable but we find them rather unpalatable when raw and mushy when cooked.


As can be seen here, the flowers are very pretty.

I was intending a picture of the "potatoes" but as so often happens, nature does not stand idle. When I pulled the plants, nearly every one had potatoes hanging from them.

I waited to take pictures until the flowers opened but strangely, when I started pulling them to find a potato to photograph, there were none. I pulled dozens and gave up.

They apparently are absorbed or some such thing when the plant blooms or the few ducks we saw on the pond were very busy indeed.





---




DUCK POTATOES, The Sequel

Last year I posted the "Duck Potato Story" but as luck would have it, the "potatoes" were gone when I photographed the flowers and plants. I promised a picture of the potatoes this year.

I stand by my previous comments on their being less than a gourmand's delight to eat.