CLOUDS
Jack Schmidling Productions, Inc.
18016 Church Road ~ Marengo IL 60152











CLOUDS




I've looked at clouds from both sides now but still somehow, I missed these till now...............
---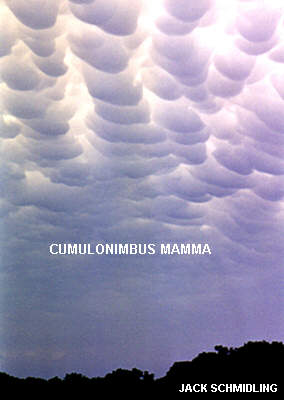 Cumulonimbus Mamma
Looking out the window one afternoon a few weeks ago, we saw this most interesting cloud formation.
A quick check of the cloud chart * in the museum identified them as Cumulonimbus Mamma, which roughly translates as storm clouds shaped like mammary glands.

The description under the picture read:

"Seldom seen, low to middle clouds. Associated with severe wind squalls, hail, heavy precipitation, tornadoes and thunderstorms."













---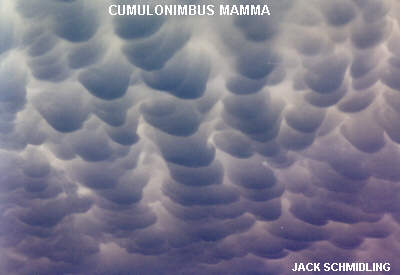 Looking Up
None of the above happened but we walked out to the road and took this picture looking more or less, straight up.



* The cloud chart referred to was purchased from the Mount Washington Observatory in New Hamshire.













---



CLOUDS
One evening while tending to the sheep, just before sunset, I was awed by what the Sun was doing to a group of high cumulous clouds.
By the time I got the camera, much of the glory was gone but these two pictures give some idea.









---
For the most recent Photos of the Week.. RECENT PHOTOS