CATALPA TREE
Jack Schmidling Productions, Inc.
Marengo Illinois

MOST RECENT PHOTOS PHOTO INDEX HOME PAGE
New SLIDE SHOW New
---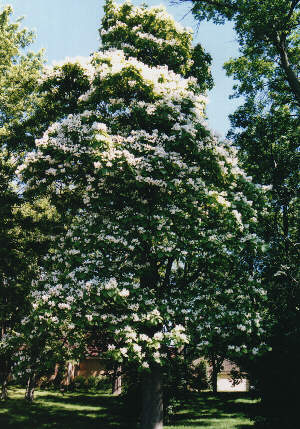 CATALPA TREE
Catalpa speciosa
When we in the temperate zones think of trees in bloom, we think of apple trees, peaches and flowering crab trees. The thought of towering forest giants in spectacular bloom that can be seen from a mile away are only memories of visits to the tropics. The Catalpa Tree is the only exception to this gereralization that I can think of and we are blessed to have one in front of our house.




The Catalpa is the only member of the Bignonia family that lives in Northern latitudes.

The striking orchid-like flowers are about two inches across and cover the ground like a blanket of snow when they fall.

The fruit is a tough, long bean like pod commonly known as "Indian Cigars".