COMMON BUCKEYE
Jack Schmidling Productions, Inc.
18016 Church Road ~ Marengo IL 60152
Phone:815 923 0031 ~ Email:jack@schmidling.com
---
COMMON BUCKEYE
This week we catch up on one of the butterfiles of last Summer. Marilyn does most of the butterfly photography and this is one of hers.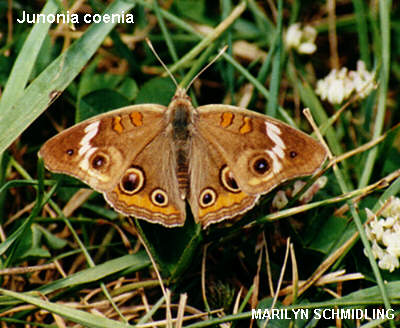 COMMON BUCKEYE
This striking butterfly is a regular visitor here although we rarely see more than one or two each year. It is much more common in the Southern parts of it's range.
The major food sources for it's larvae are Toadflax and Plantain.
In size, it is somewhat smaller than a Monarch.
The "eyespots" are supposed to make it scary to predators but one can take that with a grain of salt.
---
For the most recent Photos of the Week.. RECENT PHOTOS