NGC 7635, THE BUBBLE NEBULA
Jack Schmidling Productions, Inc.
18016 Church Road ~ Marengo IL 60152








NGC 7635, THE BUBBLE NEBULA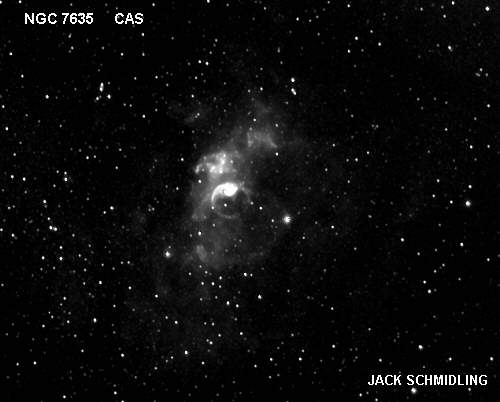 NGC 7635 is one of the most dramatic objects in the sky. As with the Horsehead Nebula, the name Bubble says it all.
I was always under the impression that this object was a planetary nebula but the paragraph quoted below from NASA does not seem to indicate this explanation.
Nevertheless, I will add it to the planetary nebula page.
---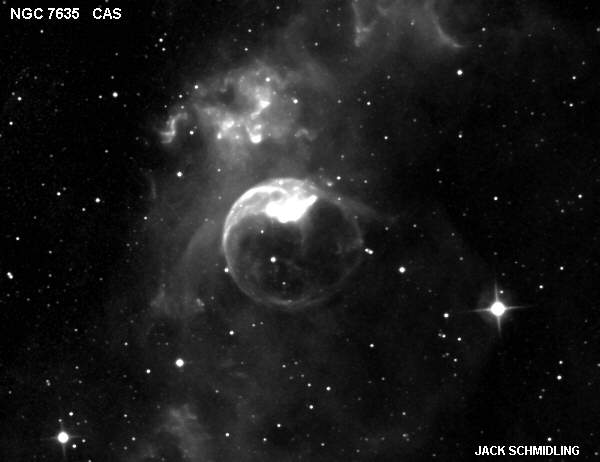 ---
The above wide field image was taken with through the 4.25" AstroGraph through a Hydrogen Alpha filter.
The image on the left was take with the 10" Newtonian telescope through the same filter.
Both were taken with the MX716 camera.
---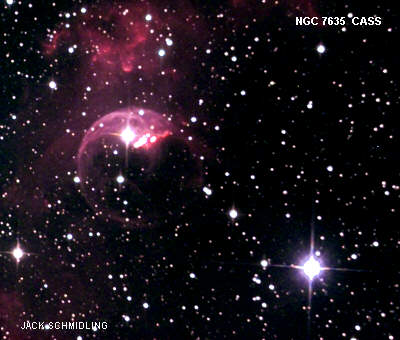 ---
This high resolution image was taken with the 16" telescope.
It was a 20 min exposure with the MX7C.
You can see the full picture by clicking BIG PIC
---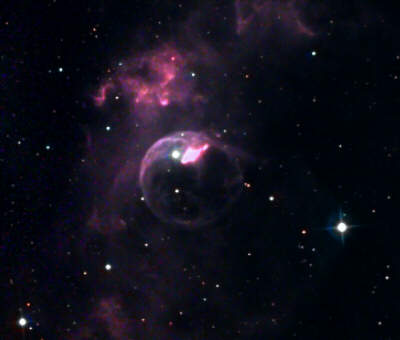 This image is a composite of the 10" HA image and the 4" color frames.
Compared to the above, it offers a good example of the effects of using the Hydrogen Alpha filter. The unfiltered picture shows considerably more stars but less nebulosity than the filtered one.
Also note that the unfiltered image was aquired in only 20 minutes while the filtered one required a total of 2 hours.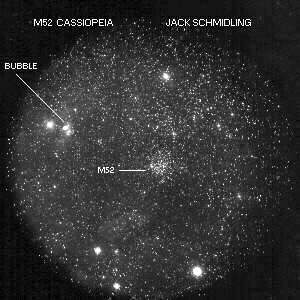 This film photo shows the location of the Bubble
with reference to the galactic star cluster, M52.
For more images and info on planetary nebulae,
click... PLANETARY NEBULAE

The following is the text from the NASA Photo of the Day which featured a new Hubble image:
Explanation: What created this huge space bubble? A massive star that is not only bright and blue, but also emitting a fast stellar wind of ionized gas . The Bubble Nebula is actually the smallest of three bubbles surrounding massive star BD+602522, and part of gigantic bubble network S162 created with the help of other massive stars. As fast moving gas expands off BD+602522, it pushes surrounding sparse gas into a shell . The energetic starlight then ionizes the shell, causing it to glow. The above picture taken with the Hubble Space Telescope and released last week shows many details of the Bubble Nebula never seen before and many still not understood. The nebula, also known as NGC 7635 , is about six light-years across and visible with a small telescope towards the constellation of Cassiopeia .



---












For the most recent Astrophotos of the Week... RECENT PHOTOS




All film photos taken with the...JSP ASTROCAMERA