BLUEBIRD
Jack Schmidling Productions, Inc.
18016 Church Road ~ Marengo IL 60152
Phone:815 923 0031 ~ Email:jack@schmidling.com
---
BLUEBIRD
When we first moved out here, just seeing a bluebird was a thrill. We immediately went out and bought nesting boxes and every year at least one pair would show interest but just when we thought they would stay around, gone!
We studied the design, made recommended changes and built much better boxes ourselves.
Last year, a pair stayed around one box for two weeks, bringing in nesting material, singing up a storm and then... gone!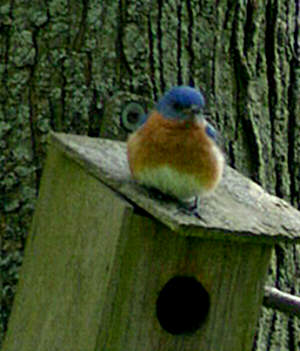 This year, this male camped out on one of the old boxes on a tree near the road for a couple of days and... you got it.... gone!
I have no idea what the problem is but there is always next year.
For the most recent Photos of the Week.. RECENT PHOTOS