---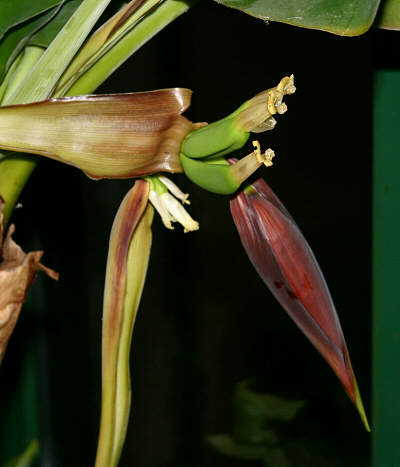 What she saw was a bulbous node at the end of the newest leaf.
A few days later, the sheaf rolled back from the first "hand" of bananas.
If there is a god, he surely does work in mysterious ways.
What will happen now is that every week or so another sheaf from the red bundle will unfold exposing another hand of bananas until there are no more. When they have all ripened, it will be cut down and the small shoot to the left in the above picture will take over.
Now that we have come this far in ONLY 20 years, the question is:
will they be eatable?
We will keep you posted.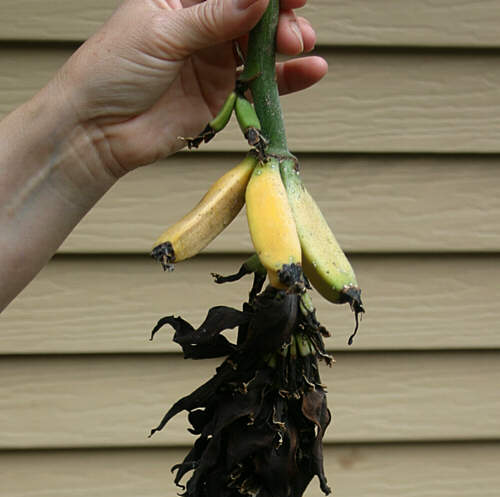 BANANA UPDATE

Just about a year ago (July 2006) I told the story of our "Hallelujah Banana". This is a house plant we have been nurturing since 1985 thinking that we would give it just one more year before giving up on it. Last year was "it" and it was time for it to go but no sooner did we make this decision then it decided to flower.

Within a few weeks bananas started to form and we had great expectations but after 3 bananas formed, the rest just withered away and the whole thing seemed to enter a state of suspended animation.

We eventually got tired of looking at this and decided to cut it down and find something better to do with the space it was occupying. We saved the bunch to take a picture and consigned the plant to take it's chances outside.



The very next day, the bananas started to turn yellow and acted like they were ripening. A week or so later we cut them open and found a pencil sized piece of not very tasty banana. The 3" long fruit was about 75% skin but nevertheless, it was a banana grown completely in the house.

---

jack@schmidling.com

ASTRONOMY BEER CHEESE FIBER CRAFTS GEMS INSECTS PRESERVED FOOD SILVER VIDEO