Jack Schmidling Productions, Inc

presents
A DAY AT THE ZOO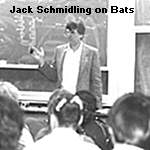 Until you have taken a trip to the zoo with naturalist/film maker,
Jack Schmidling, you haven't been to the zoo.
He brings all of the fun and excitement of a trip to the Zoo, at the push of a button. Not only do we bring the zoo right into your home but we have combined the experiences of many separate trips to two of the world's finest zoos.
---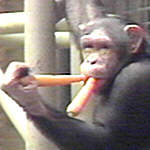 34 ANIMALS
In addition to the actions and antics of thirty four different animals, many facts of their habits and native habitats are presented. Many of them are endangered or extinct in the wild and the reasons are discussed along with programs to protect and save the ones that are left.

LINCOLN PARK ZOO
Our DAY AT THE ZOO begins at the famous Lincoln Park Zoo in Chicago. From a humble beginning with a pair of swans over a century ago, it has become home to over 2,000 animals.
Lincoln Park Zoo typifies the change in zoo philosophy that has come about over the years. From a collection of animals that were souvenirs of travels to exotic places, it has become a last refuge for many of the world's endangered animals. It is a splendid combination of the old and the new, with some of the finest new naturalistic habitats along with several landmark buildings.
BROOKFIELD ZOO
At the halfway point in our DAY AT THE ZOO , we hop into the car and drive to Chicago's other famous zoo. Unlike Lincoln Park, Brookfield Zoo is much newer and represents the latest in zoo technology. Once such exhibit is Tropic World, the largest zoo building in the world. Within Tropic World is the total reconstruction of three different tropical rainforests where Asian, African and South American animals can be studied in habitats so real that it is hard to believe you are in the city of Chicago.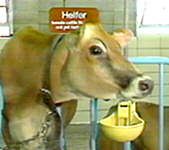 FARM IN THE ZOO
In addition to all of the "standard" zoo animals, we also visit the Farm in the Zoo to see cows being milked, a sow nursing her babies and other farm animals not seen in most zoos.
We also take some time out from the animals for a paddle boat ride on the lagoon, cotton candy, snow cones and other goodies.
So, if you enjoy the zoo or know somone who does, A DAY AT THE ZOO is for you. And don't forget, videos make great gifts.
Jack Schmidling Productions, Inc.
18016 Church Road ~ Marengo IL 60152
jack@schmidling.com