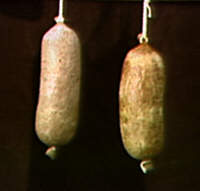 These are cured sausages made from pork liver, pork hearts and pork. Braunschweiger is smoked after cooking hence the "braun" in the name.
They are best stuffed into beef middles as fibrous casings do not shrink with the sausage.
---
*Termperature control unit.... Ranco ETC available from Grainger cat # 3ZP77.
For a start in browsing the web, try The Smoke Ring
For more information on casings: International Sausage Casings Association
Fermentation culture can be ordered from: Butcher Packer
---

jack@schmidling.com