Jack Schmidling Productions, Inc

presents
RECYCLE IT YOURSELF
---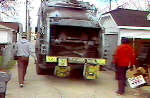 We hear a lot about garbage dumps filling up and the need to recycle but most of us just sit around and wait for the government to do something about it.
We got tired of waiting for someone else to solve the problem and decided to do a little experimenting on our own and the most amazing thing that we learned was how incredibly
simple the paper recycling process really is.
This video will show you how to turn old newspapers into a wide variety of useful and interesting products with nothing more complicated that a bucket, a wooden spoon and a rolling pin.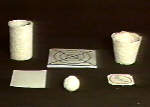 LEARN HOW TO MAKE
Cardboard, Greeting Cards, Paper Towels, Paper, Holiday Ornaments, Bulletin Board, Snowman, Necklace, Trivet, Boards, Insulated Beverage Can Holder, Bookcase.
We start out in the lab with a description of paper, how it is manufactured and microscope views showing the fibers from which it is made. Next we show you how to turn the paper into a basic pulp from which all of the products are made.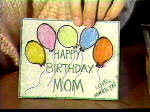 Our first project is to make basic cardboard. We then show you how to turn this cardboard into a birthday greeting card.
Then we show how the pulp is turned into paper mache from which we make a snowman, a necklace and other useful things. We even make some of it into boards which we use to build a simple bookcase.
TOUR A COMMERCIAL RECYCLING PLANT
Next we take a tour of a commercial paper recycling plant and discover that what we did at home, is not much different from what is done commercially.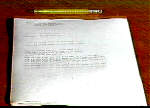 PAPER MAKING
With the addition of a few simple tools that you can make at home, we come to the final project of making real paper. When trimmed to size, this paper can be used like any other for writing, typing or printing in a computer printer.

REVIEWS
Video Librarian: "Highly recommended"
---
Jack Schmidling Productions, Inc.
18016 Church Road ~ Marengo IL 60152
Email: jack@schmidling.com