Ordering Information
Jack Schmidling Productions, Inc.
18016 Church Road ~ Marengo IL 60152
Phone:815 923 0031 ~ Email:jack@schmidling.com
Most JSP products are available at better retailers everywhere.
If you prefer to buy direct, our prices are listed below.

DOMESTIC
MALTMILL PRICE LIST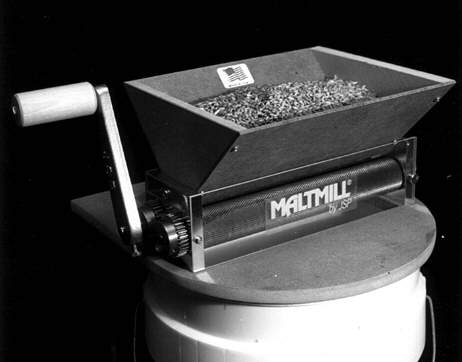 MALTMILL, Model P (Pre-adjusted) $110
MALTMILL, Model A, (Adjustable)
$143

MALTMILL, Model AA (Adjustable, Both Ends)
$155

For BareBones pricing see BareBones
Option prices below apply to purchase with new mill only



Gear Drive Option (Model A only) $55

Large Hopper Adapter
$29

Case Hardened Rollers
$35

New
White Powder Finish Steel Base **
$50

Corn Option***
$30

Misc Charges
$5

Shipping and Handling
$25
Included in cart purchase.
Contiguous U.S. Only, Email for Other
*This substututes for the Masonite and particle board hopper supplied with the standard mill.
**This substitutes for the particle board supplied with the standard mill.
***Allows wider spacing to accommodate large grain like whole corn.
---
VIDEOS
VIDEO PRICE LIST

Any one video
$19

Two or more videos
$15 each

Shipping & Handling per video
$4

HOME PAGE