COMET HALE-BOPP
Jack Schmidling Productions, Inc.
18016 Church Road ~ Marengo IL 60152
Phone:815 923 0031 ~ Email:arf@mc.net
---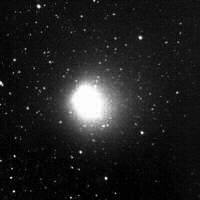 Jul 20, 1996




Distance from Earth: 257 million miles Scope: 10" F6
Exposure: 20 min
Film: Hypered Techpan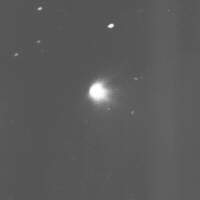 Oct 12, 1996




Distance from Earth: 281.5 million miles
Scope: 10" F6
Exposure: 5 min
Film: Hypered Techpan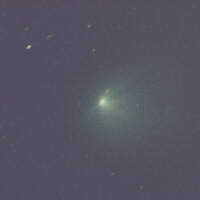 Oct 13, 1996




Distance from Earth: 281.8 million miles
Scope: 10" F6
Exposure: 5 min
Film: PPF 400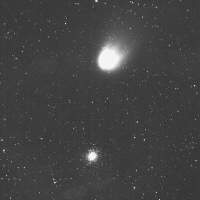 Oct 30, 1996


Hale-Bopp and Globular Cluster M14

Distance from Earth: 332 million miles
Scope: 10" F6
Exposure: 20 min
Film: Hypered TechPan

---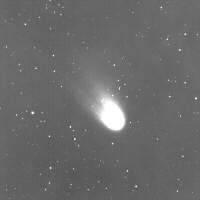 Feb 18, 1997


Hale-Bopp in the Morning Sky

Distance from Earth: 161 million miles
Scope: 90 mm Astrograph F8
Exposure: 5 min
Film: Hypered TechPan

---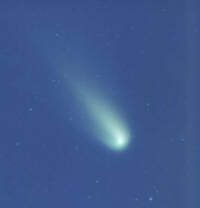 Mar 2, 1997


Hale-Bopp in the Morning Sky

Distance from Earth: 139 million miles
Scope: 90 mm Astrograph F8
Exposure: 5 min
Film: PPF 400

---
Comet Hale Bopp, the Last Hurrah
These are the last two photos I was able to take of Hale Bopp. As I was always hoping for that trophy, I never got around to posting them.
My site is hampered by an oak forest to the west and this comet was never very high by the time it got dark. I was never able to get more than one chance between almost dark and the trees.
The color photo is the best I was able to do with my setup and the ion tail is just barely perceptable. The b&w was digitally enhanced to bring out the detail of the ion tail.
---
Apr 5, 1997

90 mm astrograph, 20 min on PPF 400

Apr 9, 1997

4 x 5 Press Camera, 20 min on TP at F8
---
For more comets...........Photo Index