Jack Schmidling Productions, Inc

presents
BREW IT AT HOME
---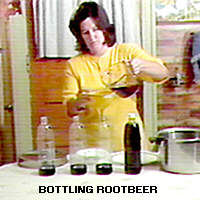 This exciting new video will show you how to make your own delicious root beer and ginger ale with that old fashioned taste. We will also show you how to brew high quality beer and ale for a fraction of the cost of commercial beer. We demonstrate how to make root beer from a commercial extract and ginger ale from fresh ginger root, with materials and equipment found in any kitchen.

Learn how to bottle home-brewed beverages with a simple process that, not only guarantees perfect carbonation but also eliminates the problem of exploding bottles, so common to home made beverages.
WHY BOTHER?
Commercial American beers contain up to 100 additives and so-called adjuncts that have nothing to do with beer. By definition and tradition, beer is made from barley malt but the major brewers have taken the liberty of substituting rice and corn for barley malt and if that isn't bad enough, they adulterate it further by substituting plain old sugar for much of the malt. This is precisely why most American beer tastes more like carbonated sake than beer.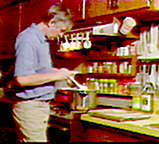 EASY BEER PROCESS
Learn our Easy Beer Process and make beer so good, you will wonder why you ever liked commercial beer.
Through the magic of time-lapse and micro-photography, we show you how barley is malted, how yeast produces alcohol and carbonation and why hops is essential to beer. We visit a dedicated home brewer who grows his own hops and a local brew shop with a dazzling array of home brew products.
We then show you how to improve on Easy Beer with simple modifications to the basic process, as your brewing skill increases.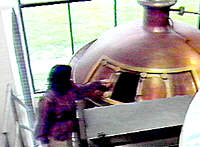 Traditional Brew Kettle
Finally, we take you on a tour of a very special commercial brewery. This is one of the only American brewers that adhere strictly to the German tradition of Reinheitsgebot, using only barley malt, hops, yeast and water.

---
Jack Schmidling Productions, Inc.
18016 Church Road ~ Marengo IL 60152
jack@schmidling.com